---
In a portrait shoot there is often a conflict for me between the posed and the candid photo. When capturing a portrait the aim is usually to achieve shots which capture a subject's personality and character. By definition, natural/candid photography should really mean that there is no interaction between the subject and the photographer. However, at an organised photoshoot there isn't this luxury, you aren't able to follow someone round for a week capturing them in natural, spontaneous scenarios. Instead you often have a window of 4 hours after hair and make up, in between interviews and schedules to get your shots. Therefore you need to learn to draw the natural out of the posed. Further, as a fashion photographer you have an opportunity to create something more than just a portrait; to place the subject in a fashion story and create a piece of artwork with the image.
I have actually never been the kind of photographer to be far in the distance just capturing the natural scenes. I have always been right there with my subjects posing them. At a family party, my grandad would be in the distance with his camera, capturing reality and feel disappointed if you caught him taking a picture and posed for him. He enjoyed the documentary style of photography; of waiting for a moment to happen, of being in the right place at right time and of capturing it. This was never me. Perhaps I don't have the patience for this because in 9/10 shots something ruins the moment. Also, whilst these shots depict the exact reality, for me, photography provides an opportunity to use a bit of magic to create a more perfect version of reality; to add a little energy and sparkle to a real life moment. Photographs are like pieces of artwork –capturing the essence and emotion of a moment in someone's life in a creative way. I find it exciting that with portraiture, you have the creative control to get to produce an 'ideal image' – something beautiful and unique in its own right. In order to achieve this, I prefer to orchestrate a shot. Possibly, this is also why I became a fashion photographer rather than a news/press photographer. I like to make my shots happen rather than hope that everything falls in to place at the right moment.
Learning how to create a refreshing portrait that stands out and captures the subject in an environment as unnatural as a studio is a skill photographers need to master. Often in a reel of shots you can have two shots taken one after the other in complete contrast. One photo has a forced smile stereotypical of a stiff portrait session and the next a shot with eyes bright, and an interesting laugh – a shot which really captures the subjects personality. Its about capturing the in between moments where you reach into your subjects personality and create an image that truly reflects who they are. You have to allow everyone to warm into the shoot. An experienced, fashion photographer told me that they preferred shooting film because the team could not see and instantly critique the shots. Instead the moment was between the model and the photographer to develop the shot and the team had to wait until after the shoot to see the images. I can really relate to this. When you take the first, test shot, it is not often 'there yet' because it is the first shot, but the team, being conscientious creatives, swarm the computer and jump in to make changes. This can make the model panic and seize up.
I think one of the key components in portrait photography is how you approach your subject in order to make him or her feel relaxed in order to get the best out of them and to allow their character to show in the images. Before I had any experience on set I thought that, to be a photographer, you had to be incredibly extrovert and loud to command a shoot. I have actually found that putting people at ease by being relaxed and giving gentle but firm instruction is far more effective. When I photographed a shoot which was filmed for 'Made in Chelsea' I had no idea just how nerve racking it was to be the other side of the camera, and it gave me a great, if brief, insight into how vulnerable you can feel when stood in front of a professional camera and crew. Interestingly, I often find that even if the subject is well known, once a shoot begins the 'celebrity status' of the subject fades and the creative team become on an 'even pegging' with them. It seems to me that being in front of the camera is a vulnerability for them, as it is for most.  Just because celebrities are used to being in front of the camera, it doesn't mean that they aren't nervous to perform. In fact it is often an element in people who are successful that they are always striving for perfection and therefore never completely satisfied or confidant.  This means that they are often just as much in need of reassurance as anyone else. I therefore think that it is important to facilitate an encouraging, relaxed mood on a set and to try to tease out the true character of any subject.
When I photographed Spencer Matthews for his 2015 Calendar, I had already shot him quite a few times. He is a great character to have on set and brings lots of energy. You are far more likely to find yourself having to reign him in than draw something out of him. For this shot of him, we shot in a light, white room and he was dressed casually to achieve a soft warm portrait. Strangely, I often find that having a hand to your face creates a great shot. It can feel incredibly forced so you need to shoot until it feels natural. I love both of these shots. In the first shot I feel his eyes are really expressive. In the second, he actually went to tell a joke to the team staring at him behind the camera and I was able to capture the genuine laugh from him. This is an example of everything being orchestrated but then within those constraints you can capture a genuine moment.
Similarly, when I shot fellow 'Made in Chelsea' personality, Jamie Laing, for his Candy Kittens Recipe book, the publishers wanted some fun, carefree shots of him posing with the food. Having the cakes and sweets as props became a great way for Jamie to show his personality and use them as a tool to add another dimension to the shots.
As I have said, some people are pretty natural in front of the camera and can pose and lark around, being themselves. Others don't enjoy being photographed, or a shoot environment. As a photographer there are then some tricks I have found which can help a shot to feel more natural and relaxed than it actually is.
Brian Mcfadden would tell you himself, he does not enjoy being in front of the camera. Observing him on set he is a funny, warm, extravert character and so when I was shooting him for his single sleeve, I wanted to draw this character out of him for the images. Ideally, for someone like Brian you would set up a scenario where he could feel relaxed, chat and joke with a friend and you snap away. As it happened, I had an hour to take some shots on a Friday afternoon in a car park in Battersea – not the most relaxed environment to shoot in.
I have found that models need clear, concise and informative direction.  I think that the temptation is to not give direction to the model through concern of sounding negative and critical and making them uncomfortable. However, my experience has been that models prefer constructive direction so that they know what is expected and what you hope to achieve. I would advise that, if you think that something isn't right and isn't working, tell the model and find a solution rather than looking concerned and making them guess at what they are doing wrong.  
To make the shot look natural, I asked him to lean against the wall. Just having somewhere to lean against immediately relaxes the posture. Even in a studio, I much prefer to shoot up against walls rather than getting a subject to stand in the middle of the cove. Secondly, I suggested something for him to do with his hands. With a woman there are a lot more options, but for a man, keeping it simple such as hands in pockets often works really well. Thirdly, I directed him to look away from camera and to do a small laugh. Lastly, I shot from slightly one side. I find that if I stand at an angle, to become more of a 'voyeour' on the subject, it can transform the look of a shot from forced, to natural. This was Brian's favourite image and ended up being his single cover.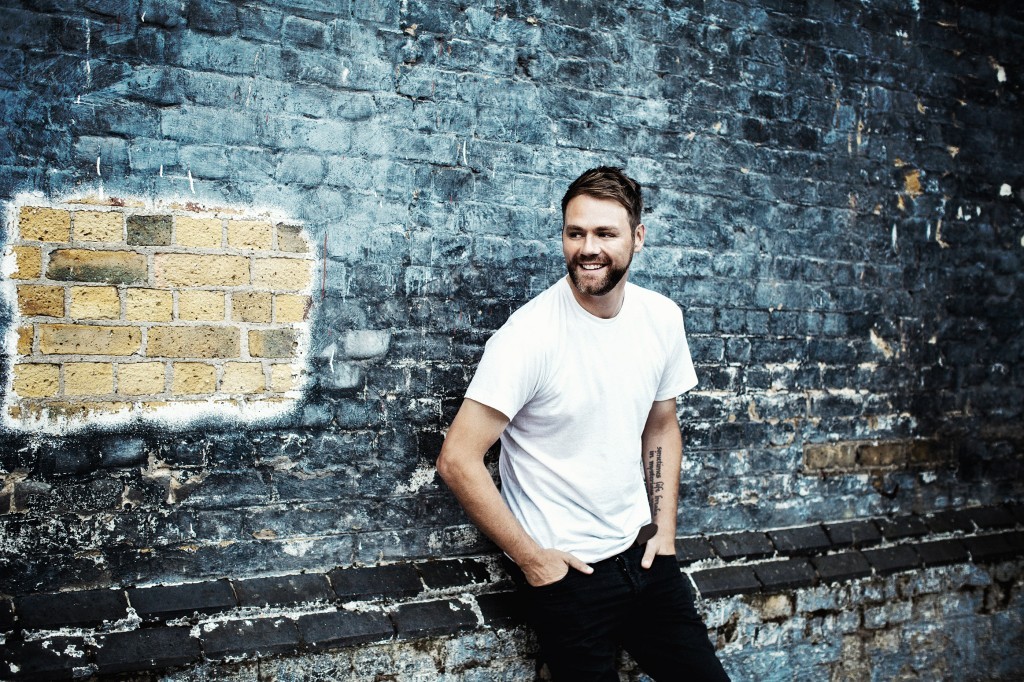 Here is another example of how laughing looking past the camera can create a really natural image in this portrait of Sarah Harding.
Another tool I use to draw expression and character out of a subject is to get them to do passport style expressive shots. This worked really well on my shoot with Josie Gibson, because although she is a vivacious character, she isn't confident in front of the camera. So getting her to pull some different expressions acted as a bit of a distraction to let her character come through in the shots. I did something similar with Spencer Matthews when he was dating Louise Thompson. There were endless vibrant, funny shots from this set that choosing just 4 was difficult.
Often the goal is to capture a 'portrait' with a celebrity, However, with many celebrities having their own clothing lines there is also a place to capture someone in less of a portraiture sense. I love putting someone in a fashion story scenario and making them the model. This can give you the opportunity to show them in a different light and for them to take on a different persona from their own. In these shots of Amy Willerton and Rosie Fortescue, it is not about them as characters but about the clothes and selling a story.
To summarise, for me, a successful image captures the essence of the subject but plays with the boundaries between portraiture and fashion, candid and posed.  At the heart of it, I love that with portraiture, you are to a large extent in charge of all the components of an image: the subject, the make up, the styling, and you are able to create a piece of artwork yourself. Whilst the essence of portraiture is always the subject, the styling, the location and the make up are all vital because they compliment, enhance and create the scene around the subject. All of the components amalgamate to create the 'finished article'.