---
I am a fashion photographer who is also a vegetarian, passionate about the treatment of animals. Because of this, I have tried to use my photography to say something positive about animal welfare.
I have always loved incorporating well-cared for animals in my photographs – as on my 'pastel' shoot where I used the stylist's dog and my pet rabbit as 'props'. For me, as well as enhancing the desirability of the clothing, the beauty of the animals enriches the final images.
On a general level, I always jump at the opportunity of using animals as 'props' as long as they are handled by their owners in the studios and treated well throughout the shoots. I usually ask for individuals local to a shoot location to bring in their pets as in the "pastel" shoot where the dog belonged to the stylist and the rabbit to me and lived on site. There is nothing like sympathetic photography to capture and remind others of the beauty of animals as well as to enhance fashionable images.
But what happens when animals appear on shoots in the form of fur coats or glove trimmings?
Over the years, the use of animal furs in the fashion industry has been a concern for me because of my research into just how such products are sourced. In the end, rather than apologising for my views, I have chosen to make them known. For example, I had a discussion with Ashley James, whom I had met when shooting her for an episode of Made in Chelsea. She had recently been to Romania to rescue abandoned dogs and her passion meant that she was keen to involve her time on another cause. We had both been surprised by friends and celebrities who labelled themselves animal lovers yet had chosen to wear fur. Together, we wanted to raise awareness about the cruelty involved in the acquisition of furs and so we chose to shoot a campaign. We wanted people to look at what we did and to feel encouraged to research this issue themselves. They could then make informed decisions about just what they were happy to endorse; especially when what they wore might influence others.
Initially, we wanted to avoid anything too gruesome and to focus on creating a beautiful image of a live animal to inspire rather than to shock. However, we were privileged to get PETA (People for the Ethical Treatment of Animals) on board with the shoot. This provided both credibility and an audience for the campaign. With them, we decided that a faux, dead fox would have more impact, being the hard truth of the message. The final campaign was targeted at Harvey Nichols who had started selling real fox and coyote fur after a decade long no-fur policy.
In order to shock people into awareness, I wanted all of the tones in the image to complement each other and to be blue/green so that the blood-red fox would dominate the image. In this, I was helped by the dark outfit provided by Stella McCartney – who, as a strong campaigner for animal rights, chooses not to use animal skins in her collection. The rest of the creative team also dedicated their time, feeling strongly about the message. The campaign resulted in widespread, national press coverage and became an influential campaign for PETA.
Since then, I have shot another PETA campaign encouraging animal adoption, showing James from The Vamps with two kittens rescued from an abandoned carrier bag.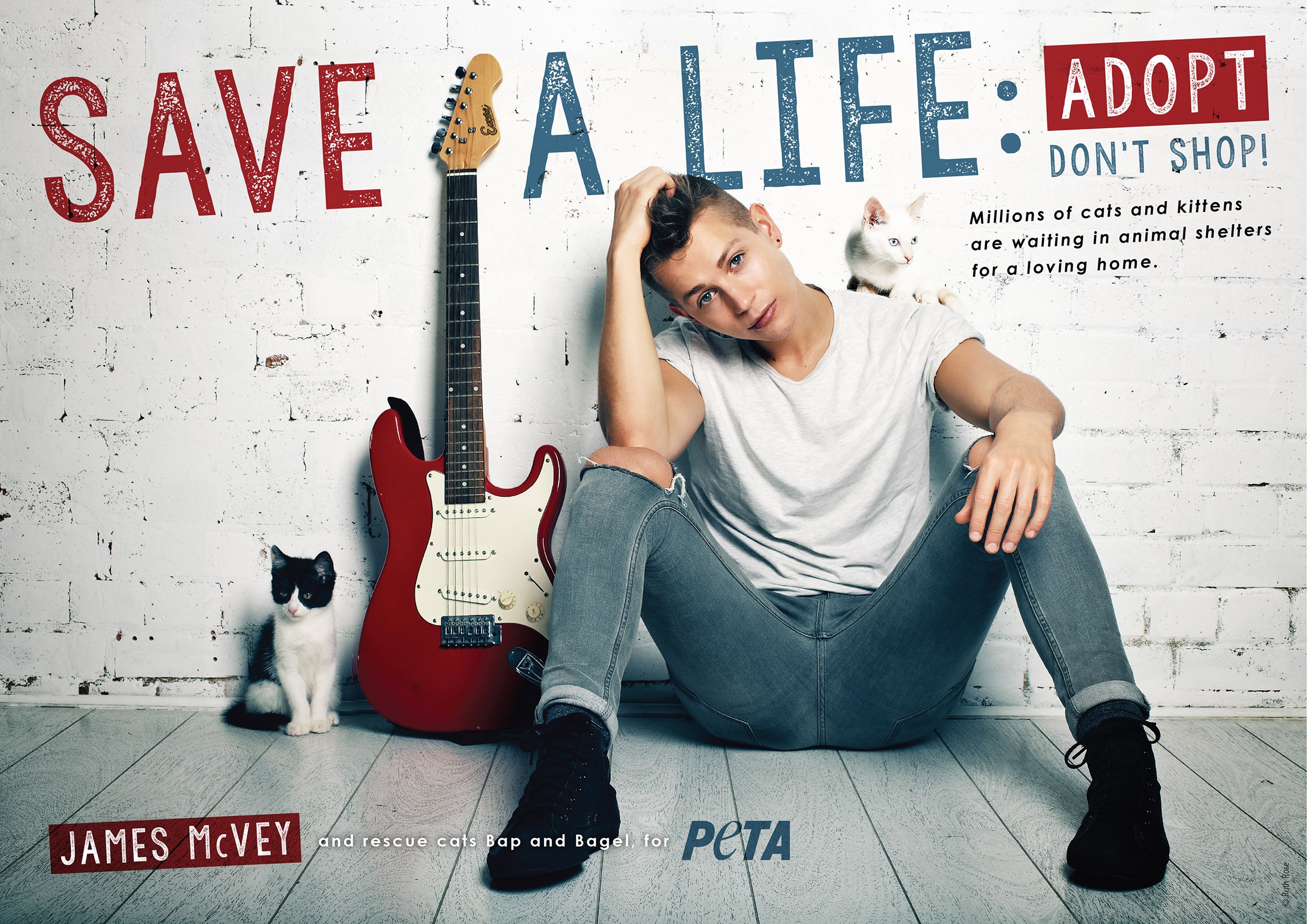 This campaign was featured in 'We love Pop magazine', targeting teenagers.
After my Campaign with James, I had a brainstorm with PETA about other artists that might want to lend their name to a cause. I had recently shot with Brian McFadden who had brought his delightful puppy Winston along to the shoot. I spoke to Brian's manager about shooting a Campaign together for PETA to raise awareness of the fur industry in Ireland.
Since then, I photographed boyband Union J raising awareness for the lives of orcas at Seaworld.
I have been fortunate to work alongside industry creatives who share my beliefs and who have enabled me to use my photographic skills in a positive way. I hope to do more in the future. I am always impressed by celebrities such as Ricky Gervais and Leona Lewis who advocate animal rights through social media messages and animal-friendly brand endorsement. It is always a topic of controversy and I believe it is important to respect the views of others. However, I also think that it is possible to achieve small areas of good by encouraging awareness and thinking on a topic of importance. My views on the topic also recently got turned into a column for Digital Photographer magazine.
When requesting the vegetarian option, I often get asked about my views over lunch on shoots. I try to give my personal opinions whilst respecting the views of others as much as I can.
Similarly, rather than trying to force my views on others, my motive with wanting to shoot these campaigns is to encourage deeper thought about the welfare of animals. For instance, I genuinely believe that for a lot of consumers the truth behind the manufacturing of certain garments isn't known. For example, a family friend showed me some angora socks which she had bought for her granddad for Christmas. I don't think that she had any idea about the suffering involved with plucking rabbits on a fur farm to produce these. Had she known, and had there been a synthetic option sat next to the socks, I am sure that she would have opted for these.
I can completely accept that for some people vegetarians can seem inconsistent, even hypocritical. In principal, for me, I don't like the thought of eating meat, or using a fabric if the animal suffered to produce it. Therefore, the fact that I have some leather in my wardrobe could be seen as hypocritical. But, to put it simply, for me, doing something is better than doing nothing! Ashley posed for the PETA Campaign, for instance, even though she is not herself a vegetarian, and had recently been to Romania to rescue abandoned dogs and her passion for animals meant that she was keen to get involved these causes.